Private security companies are businesses that provide security services, such as security guard training. The Private Security Agencies Regulation Act of 2005 governs the functioning of private security firms (PSARA). Moreover, no private security agency can start a business or provide a security guard without holding a license under PSARA.
Security guards are an essential for all types of enterprises. Hiring a security team can help minimize crime and provide peace of mind to employees, customers, and company owners. However, if you are not sure how to pick the best security guard company then consider the followings. 
Here is how you can pick the Best Security Guard Company:
1. History and Reputation of the Company:
The reputation of a security guard firm is one of the most significant elements to consider when selecting one. It's advisable to look for security agencies with a proven track record in the community. Choosing a company with little or no experience in the area poses a greater risk because the company hasn't had time to build a reputation or demonstrate the quality of its services.
2. Training and certification:
Another factor to consider when hiring a new security guard business is the training and certification that the company's employees have received. Working in security is not an easy profession. It necessitates a high level of vigilance, attention to detail, the capacity to work under pressure, and honesty.
Teams acquire sufficient security training and certification. So they can deliver better services to consumers by ensuring that their workplaces are safe and secure. A security guard who isn't prepared to react properly and effectively in the event of an emergency is the last thing a business owner wants.
3. Professionalism and communication:
Even if you hire a company that provides excellent security services, you will be disappointed with the results if the organization is unprofessional or communicates poorly. From the start, pay attention to how a security firm communicates with you. If a company is slow to respond to a call or transmit with you in an unprofessional manner, it's doubtful that your experience will change if you hire them.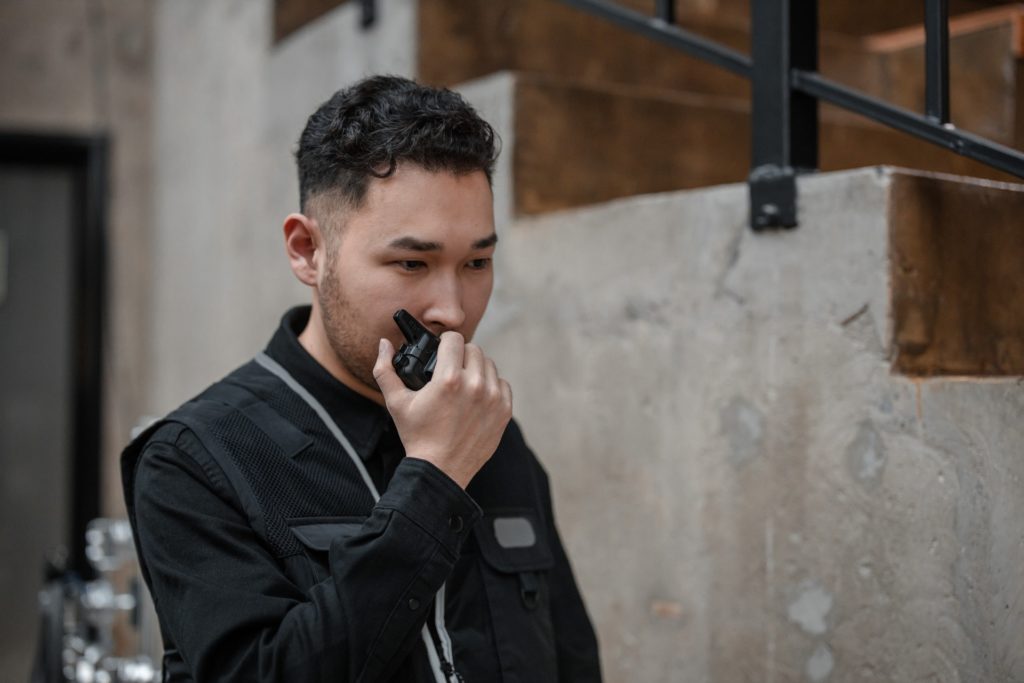 4. References and recommendations:
A security firm may appear to be excellent on paper, but the true measure of a firm is if it has a positive reputation among previous clients. Request references from security companies so you can get a better idea of the quality of services you may expect. It's also a good idea to do some research online and read some customer reviews. If you have previous experience working with security guard services, you may also ask family or friends for referrals.
5. Inquire about the security systems in place:
To carry out their jobs, security officers must work with a variety of equipment. In addition to pistols, tasers, and other defensive weapons, security guards may be required to operate and maintain security systems. Security guards must also deal with cameras, sensors, and scanners when performing their job. As a result, security staff must have the necessary technical capabilities to ensure proper equipment usage while avoiding mishaps.
6. Check to see if the agency follows government regulations:
Every security agency must follow the state government's basic rules. While most organizations have different minimum working hours for their agencies, a shift of at least 8 hours is required.
7. Ability to communicate:
The ability to share information and understand comments from others is a part of communication abilities. To carry out their tasks, security guards rely greatly on their ability to communicate. To begin with, security guards frequently work in groups and must communicate well to keep the security operation going smoothly. In addition, security guards are frequently hired to protect people.
Security guards use communication skills to address anxious people and calm them down in high-stress circumstances. They must also listen to complaints or emergency calls from people to grasp what they require and present their employers with succinct and clear reports. All of this necessitates great communication skills, thus security guards must be able to properly pass and receive information.
8. Personality Traits:
Security guards must learn to engage with people and create a pleasant and polite environment. Interpersonal skills can help consumers trust you as a security guard and aid you in identifying when anything appears wrong, in addition to enhancing customer happiness. Interpersonal skills can also help you avoid escalation and reach a safe conclusion in high-stress situations.
9. Consider your Budget:
Choose an agency that matches your budget while also providing the level of security you require. Many agencies charge excessively high fees and guarantee high-level security, but the expense is not justified. Price doesn't matter if the service quality isn't affected. As a result, to ensure better safety, establish the correct balance between quality and cost.
Also Read: