Do you visit your dentist regularly? Or do you only visit when having an issue? Regardless, taking care of your teeth is crucial. Visiting dental clinics once or twice a year will maintain healthy teeth. There are many dental clinics in Chennai with some of the best facilities. Amongst them, today we have picked only the 5 best dental clinics for you.
These clinics have years of experience in their field and are equipped with the latest niceties. Make your smile brighter with the best dental clinics in the city.
1. Thangam's Dental Clinic and Orthodontic Centre
Nestled in the heart of Chennai, Thangam's Dental Clinic is a well-known name in Chennai. The dental clinic was established in 1999. During this span, they have become a reliable name in India.
Thangam's field of expertise includes dental treatments, cosmetic dentistry, and more. Their high-tech supplies can treat any of your dental concerns. Their proficient doctor consults with you to explain your condition before treating it. Besides, the clean and relaxing ambiance helps you to calm your mind.
2. Acharya Dental
If you put authenticity first, Acharya Dental is a clinic you can visit without any doubt. Providing a satisfactory service since 1974, the clinic is a one-stop solution for all your dental crises. The founder Dr. Vijailakshmi Acharya started her clinic at a mere 240 square feet on a quiet road in Madras. Today, Acharya Dental has become one of the most favored dental clinics in Chennai and earned the trust of thousands of people.
The clinic maintains a high standard in terms of hygiene and modern facilities. The employees are professional from the receptionists to the doctors. Moreover, they offer a myriad of services, including teeth cleaning, whitening, replacements, and more.
3. Dr. Arun's 32 Pearls Dental Centre
Dr. Arun's 32 Pearls Dental Centre has become a blazing name in Chennai. The clinic strives to provide its clients with the most pleasant dental visit. The founder, Dr. Arun Suraj is one of the most well-recognized Cosmetic Dentists and Root Canal specialists in India. He has acquired many degrees and years of experience in the various fields of dentistry.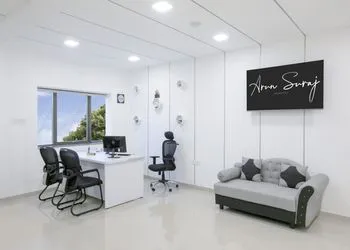 Dr. Arun offers basic and advanced dental treatment in his clinic. He has won many awards on numerous platforms. His keen interest to cure his patients has made him more popular.
4. Malligai Dental Hospital
Did you know that ignoring your oral hygiene can lead to cancer? That is why you need the help of an expert. Major Dr. Pravin Prathip J is one of the most renowned dentists based in Chennai. His dental clinic Malligai dental hospital is well-known for delivering heart-warming services to patients.
Major Dr. Pravin Prathip J opened his hospital in 2009 after finishing his service commission in the Indian Army. In this mere gap of years, his clinic has become one of the leading dental hospitals in Chennai. If you want to know the reason why it is rather simple. His proficiency and passion have led his patients to visit repeatedly.
5. RR dental hospital
In 1995, Dr. Sanjay Rajan & Dr. Kayal Vizhi started RR dental hospital, with the dream to help their patients smile freely without holding back. quality dental care at affordable prices to the people of Chennai, at Vadapalani. This ISO-certified clinic is well-known for providing to-quality treatment at an affordable price.
They believe that each patient deserves special services and give their best to make them feel comfortable. The hospital offers a wide variety of oral care, including root canals, fillers, and more.